The Tagus has been in production since 2019 designed to meet today's emission standards It benefits from the latest Euro 6 low emission VW diesel engine with exhaust regeneration system modified to work at the vehicles low operating speed.
The Tagus is the real work horse of the range, with its 3 litre four wheel drive its happy pulling 84 adult passengers in three Jumbo carriages up a gradient of 15% day after day. As with our electric power cars the Tagus is homologated to operate on the public highway in Europe, Middle East, Asia and the USA/Canada, making the perfect cross over vehicles between leisure attractions and public carparking areas.
Examples of the Tagus road train can be seen all over Europe, Mexico and North America, with an ever-expanding list of countries in which the train operates. The power train and its major components are available worldwide to allow operators to source parts locally in a timely way.
| | |
| --- | --- |
| Power Train: | VW 3 litre – 204HP – V6 – Euro 6 diesel engine with low-speed regeneration system |
| Drive: | 4-Wheel drive |
| Body: | Fiberglass reinforced plastic body with quality UV protection and gloss paint finish. |
| Transmission: | Automatic |
| Steering: | Servo Assisted |
| Brakes: | Hydraulic disk brakes on all 4 wheels with servo. Hydraulic negative parking brake. Hydraulic-pneumatic convertor for carriage brake control. Pneumatic circuit for coach fail-safe braking |
| Suspension: | Front suspension has helicoidal springs & dampers, Rear suspension parabolic springs |
| Dimensions: | Length 13ft (3.96m) – Width 6ft 4 in (1.92m) – height 7ft 9in (2.36m) – Wheelbase (7ft 9in (2.36m) |
| Minimum turning circle: | 11 Metres |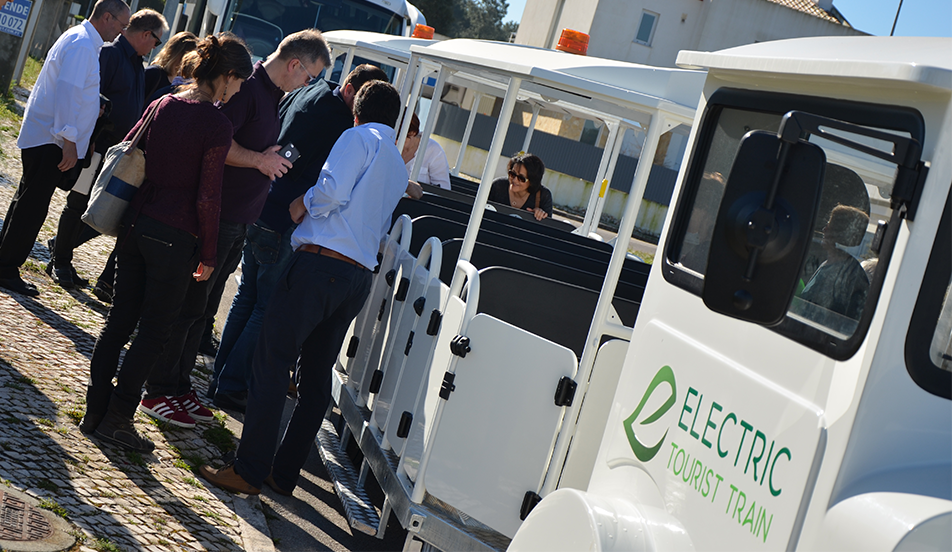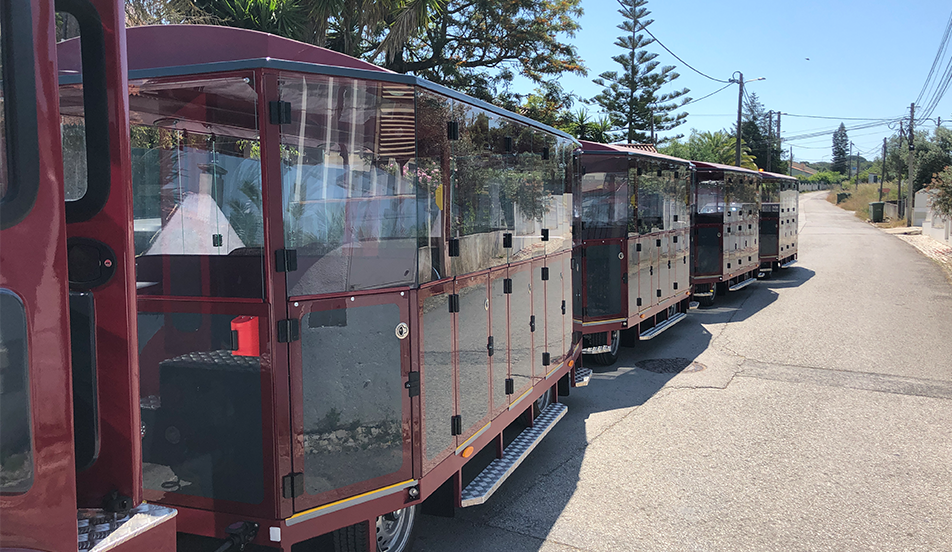 FRESH CARRRIAGE
The Fresh Carriage is supplied with doors fixed on one side and opening on the other as standard. Also provided are sound system speakers, LED interior lighting emergency alert buttons and padded seating. Constructed using high quality fixtures and fittings its durability is held up by a number of original carriages are still in operation from the 1990's.
The dimensions of the Fresh are ideal for negotiating narrow streets that twist and turn through attractions and historic cities alike. For use on the public highway, you are limited up to three. The Jumbo Fresh carriage seats 28 adults rather than 20, with all the same great features.
DIAMOND CARRRIAGE
The Diamond carriage has been designed to give the flexibility to have a continuous all year round operation, keeping your passengers in a comfortable environment. Ideal for zoo's. safari and wildlife parks, passengers can be safely contained while enjoying the tour and its animals.
Special drop down windows have been designed to give a feeling of openness and allow good photographic opportunities for passengers in areas that it is safe to do so.